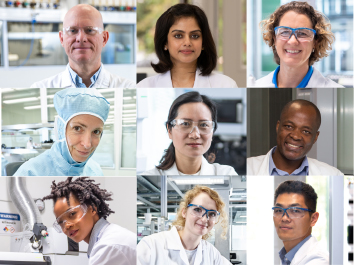 Innovation in life science and applied chemicals with you in mind
The 2021 Agilent Science and Technology Virtual Symposium (ASTvS 2021) is live across several continents on Wednesday 5th May and will be available on demand until Wednesday 19th May.
Register today and stay updated with the latest advances from Agilent, including such live presentations as:
Innovation at Agilent - accelerating next generation science
Darlene J.D. Soloman, Ph.D. (Chief Technology Officer and Senior Vice President, Agilent Technologies, USA)
Vitamin and Amino Acid analysis for nutritional labelling
Ansuman Mahato (LC Application Specialist, Agilent Technologies, India)
OpenLAB - Benefits of Virtualization and Cloud Environments
William Goodman (Director of Product Management for Software & Informatics, Agilent Technologies, USA)
Enabling science: Simplifying services with CrossLab Lab-Wide Services
Brian Duffy (Service Business Consultant, Agilent Technologies, USA) and Brittany Stille (Product Manager of Lab-Wide Instrument Services, Agilent Technologies, USA)
OpenLAB - An Integrated Informatics systems for greater efficiency and data integrity
Thomas Schmidt (Marketing Director for Software & Informatics, Agilent Technologies, Germany)
This unique virtual event offers a variety of educational information platforms including:
Technology Booths
Auditoriums focusing on New Technologies
Software Center: Smart Alerts, OpenLab CDS, I-Lab, Compliance Services
Resource Center: Company and Career Information
Demonstration Center
Meetings focusing on BioPharma & Pharma and Food & Environmental Solutions
Networking Lounge
This event is available globally on 5th May, 2021 with presentations running at three different times to ensure you can attend wherever you are in the world.
Asia & Australia
Doors open: 8.00 a.m. SGT | 8:00 a.m. CST | 10.00 a.m. AEST
Europe, Middle East, Africa and India
Doors open: 9:00 a.m. BST | 10.00 a.m. CEST | 13:30 p.m. IST
North America and South America
Doors open: 8:00 a.m. PDT | 10:00 a.m. CDT | 11:00 p.m. EDT | 12:00 p.m. BRT
Don't worry if the times are not convenient for you as the whole event will be available on-demand to all registrants until 19th May, 2021.