Discover the hidden potential of mass spectrometry over immunoassay solutions. Watch this video from Thermo Fisher Scientific and find out more.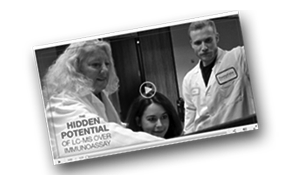 Immunoassay has been the gold standard biomolecule assay for the past fifty years, and has offered several benefits and limitations. LC-MS represents a complementary technology offering increased selectivity and specificity, while addressing sensitivity and productivity goals typically expected.
Find out how you can...
experience greater specificity, speed, analyte range, throughput and multiplexing capabilities
lower your cost per sample
reduce sample volumes
choose from flexible options.
Join the Clinical Community Today
Clinical research, translational discovery, and diagnostic solutions to help you meet the demanding needs of your work. Get updates on technical notes, webinars, customer appreciation events, and even employment opportunities.