In this study, different methods for the separation, detection and quantitation of complex polar contaminants by UHPLC/MS/MS in water matrices are demonstrated.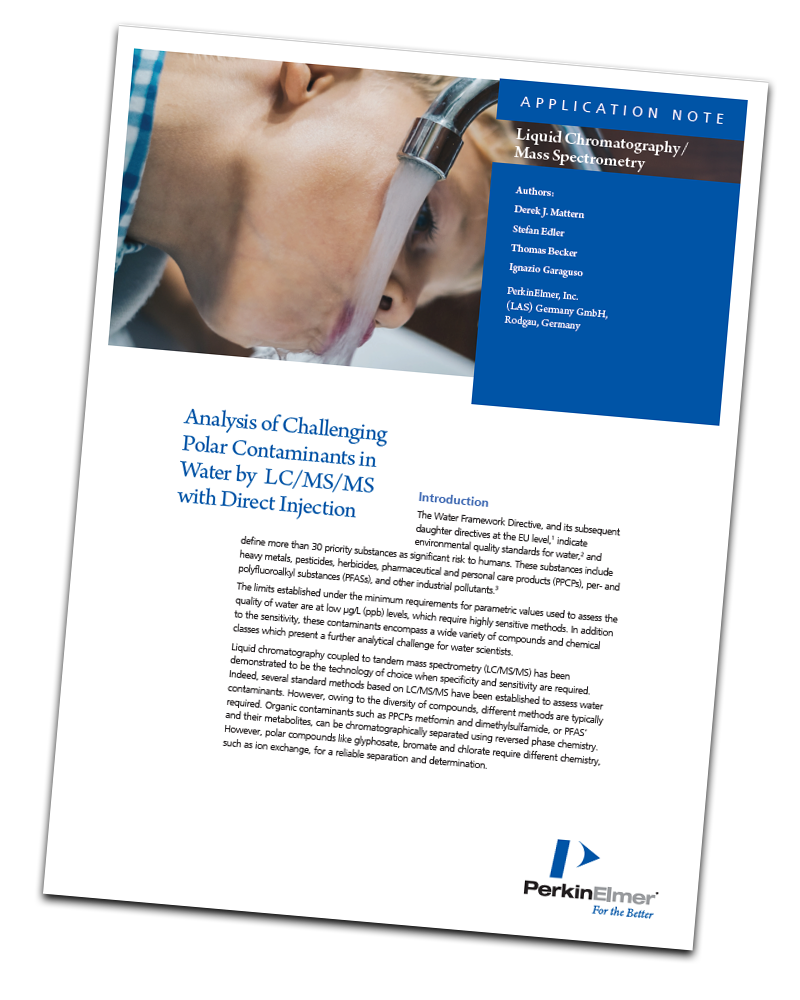 The Water Framework Directive, and its subsequent daughter directives at the EU level, indicate environmental quality standards for water, and
define more than 30 priority substances as significant risk to humans. These substances include heavy metals, pesticides, herbicides, pharmaceutical and personal care products (PPCPs), per- and polyfluoroalkyl substances (PFASs), and other industrial pollutants.
The limits established under the minimum requirements for parametric values used to assess the quality of water are at low μg/L (ppb) levels, which require highly sensitive methods. In addition to the sensitivity, these contaminants encompass a wide variety of compounds and chemical classes which present a further analytical challenge for water scientists.
Liquid chromatography coupled to tandem mass spectrometry (LC/MS/MS) has been demonstrated to be the technology of choice when specificity and sensitivity are required. Indeed, several standard methods based on LC/MS/MS have been established to assess water contaminants. However, owing to the diversity of compounds, different methods are typically required. Organic contaminants such as PPCPs metfomin and dimethylsulfamide, or PFAS and their metabolites, can be chromatographically separated using reversed phase chemistry. However, polar compounds like glyphosate, bromate and chlorate require different chemistry, such as ion exchange, for a reliable separation and determination.
Therefore, in this study, different methods for the separation, detection and quantitation of complex polar contaminants by UHPLC/MS/MS in water matrices are demonstrated. Two columns were employed using three separate analytical methods to successfully quantify metabolites such as trifluoracetic acid, the antidiabetic metformin, and various inorganic contaminants, such as chlorate and bromate.
Experimental
For full experimental conditions, please download the application note.
Results and Discussion
For improved separation and sensitivity, various analytical columns were tested with different combinations of mobile phases. Following the evaluation, two columns using three separate analytical methods, based on various criteria (retention, thermal stability, etc.), were established for the quantification of these polar contaminants.
Conclusion
Three analytical methods, using just two HPLC columns, were developed to measure several of the most difficult polar contaminants in the global water supply. Whether analyzing untreated or drinking water, the coupling of PerkinElmer's LX50 UHPLC to the QSight 420 proved to be an efficient and effective solution in tackling these tough compounds. Furthermore, this work demonstrated that it is not necessary to use special chromatographic separation techniques, such as ion chromatography, which add additional hardware and cost to the system. Owing to the superb sensitivity of the QSight 400 series, it was additionally not required to employ pre-concentration steps like SPE or online-SPE into the methodology, saving further time and cost.
Not only was the sensitivity more than adequate when compared to current regulations, the reproducibility of the results also demonstrated the robustness of these methods for use in a water laboratory. With regulations becoming stricter and stricter each year, having methods covering a wide range of compounds is a must in every lab's toolbox.