In this article from Issue 9 of the Analytix Reporter, a step-by-step protocol for the analysis of various heavy metals in Cannabis sativa plant material by ICP-MS was developed.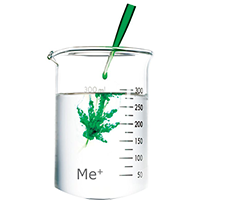 Cannabis is known to accumulate metals in various parts of the plant, such as seeds, leaves or stems, to a different extent. As a consequence, several protocols for the homogenization of canAnalytix_Reporter_Issue9_Article3_FBnabis buds were developed in order to prepare reproducible samples and analysis results. For comparison, cannabis buds were separated into seeds, stems, and leaves and the plant parts were subjected to ICP-MS.
Introduction
Cannabis is a plant genus that consists of three different species (Cannabis sativa, indica and ruderalis) and all of these are known to accumulate heavy metals in different parts of the plant (roots, leaves, seeds etc.). Due to this ability cannabis has been used for the remediation of contaminated soil (phytoremediation and phytoextraction). On the other hand this inclination can hinder the use of cannabis in the food or medical industry. Therefore, all plant materials used in either food or pharma products, should be tested for their heavy metal content.

Experimental
In this paper, a four-step workflow was applied for the process of sample homogenization, standardization, sample digestion, and analysis.
Conclusion
This work demonstrates a comprehensive ICP-MS workflow, using the standard addition calibration method, for the determination of heavy metals in Cannabis sativa hemp variety plant materials. Critical elements in the process include homogenization of samples and use of accurate traceable Certified Reference Material mixes, that are tailored to state specific regulations for heavy metals in cannabis. Reproducible samples were prepared by grinding cannabis with different mill types and techniques. Samples were then digested utilizing a specific digestion protocol, optimized to provide clear digestion solutions. The resulting solutions were subjected to ICP-MS analysis. Calibration data was obtained by the preparation and analysis of standard addition solutions obtained by diluting various different heavy metal CRM mixes containing arsenic, cadmium, lead and mercury. The final results were consistent for all samples and revealed an As, Cd, and Hg concentration of <0.1 to 0.1 µg/g. The detected lead content of the three cannabis varieties ranged from 0.3 to 1.0 µg/g.
To receive regular copies of the Analytix Reporter eNewsletter provide your email address below:
*The life science business of Merck operates as MilliporeSigma in the U.S. and Canada.