This article from Issue 14 of the Analytix Reporter helps readers learn about a robust method using Supel™ Swift HLB DPX Tips for analyzing steroid hormones in serum, offering sensitivity and automated sample preparation.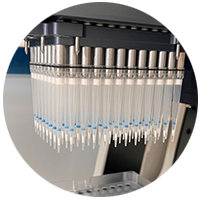 Introduction
Routine hormone analysis is necessary for establishing and monitoring patient diseases. For example, the continuous monitoring of cortisol levels can help diagnose a patient with Cushing's disease (high cortisol) or Addison's disease (low cortisol). A robust method for determination of steroid hormones in serum is imperative in diagnostics and treatment.
The Supel™ Swift HLB DPX Tips allow for reduced sample volume, sample evaporation mitigation, and offer a fully automated sample preparation approach. In this method, a total of 9 steroids (cortisone, cortisol, 11-deoxycortisol, androstenedione, testosterone, dehydroepiandrosterone, 5α-dihydrotestosterone, 17α-hydroxyprogesterone, and progesterone) were analyzed as a panel to provide a variety of testing applications and disease diagnostics.
The Supel™ Swift HLB sorbent provides good selectivity and sensitivity for steroids in a neutral solution, allowing for dilution with water prior to injection. The sorbent has significant versatility in analyte binding due to the co-polymer phase containing both hydrophilic and lipophilic functional groups.
This validated method used 100 µL of serum and the final volume available for injection was approximately 100 µL, allowing for a 1:1 concentration factor without solvent evaporation. Recoveries for the 9 analytes range from 65-86% (Table 7; see full article). The LOQs for all analytes fall below clinically relevant values, and linear dynamic ranges were between 0.025 ng/mL and 250 ng/mL. The automated extraction method allows up to 96 samples to be processed simultaneously in approximately 20 minutes prior to LC-MS/MS analysis.
Experimental Conditions
A Hamilton® Microlab NIMBUS96 was utilized to automate sample preparation using the Supel™ Swift DPX HLB Tips (Figure 1; see full article). The analysis was performed on an Agilent 1290 LC system coupled with a SCIEX Triple QuadTM 6500+ tandem mass spectrometer. LC column used was an Ascentis® Express C18 (2.7 µm particle size, L × I.D. 10 cm × 3 mm) joined with an Ascentis® Express C18, 2.7 Micron Guard Cartridge in an Ascentis® Express Guard Cartridge Holder. This combination allowed for an optimal separation of all steroids. An injection volume of 15 µL was found to be optimal to meet required cutoffs.
Results and Discussion
When analyzing endogenous compounds in complex biological matrices, optimal compound separation is imperative. While the panel here consisted of 9 compounds, there are dozens of known endogenous compounds to monitor to ensure analysis was selective and accurate. More information on the method development and details on method repeatability are given in the full article.
Click below to read the full article.