This article from Issue 13 of the Analytix Reporter shows how the hermetically sealed Titripac® packaging for Certipur® pH buffer solutions prevents contamination and ensures stability and quality of the buffer solutions. Find more about the stability studies conducted for a duration of 36 months after opening of the containers.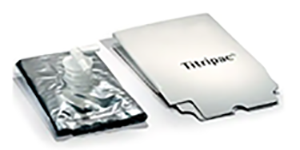 Ready-to-Use Certipur® pH Buffer solutions (4 L & 10 L) having pH values in the range of 1 to 12 are now also available in the sustainable Titripac® packaging format. This packaging ensures stability, reliability, and high-quality buffer solutions - from the first to the last drop. This hermetically sealed packaging system effectively eliminates various contamination sources, such as air, carbon dioxide, or even microorganisms during use. The outer carton can be compressed and simply disposed of together with other paper waste, and the internal liner bag can be easily folded together prior to its disposal, thereby reducing the waste volume.
Titripac® packaging is extremely easy-to-use. The integrated spout appears simply by pressing on the designated part of the pack. By opening the tap, the buffer solution can be withdrawn at any time – effortlessly and without the risk of contamination.
Titripac® packaging was awarded in 2016 with the Green Good Design Award due to its unique environmental benefits.