This article from Issue 14 of the Analytix Reporter discusses the HPTLC system suitability test (SST) which often qualifies only a limited region of the chromatogram. The newly developed Universal HPTLC Mix (UHM) enables TLC users to efficiently and reliably perform their SST. Learn more about this approach and the use of the mix.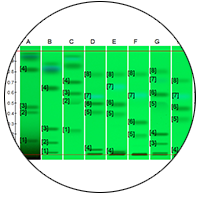 Introduction
In HPTLC, the SST often qualifies only a limited region of the chromatogram (e.g., specific RF values or narrow RF ranges). If no deviation from the acceptance criteria is observed, the entire chromatographic system is typically considered compliant. However, in practice, the chromatographic quality of the other regions remains unknown. Additionally, HPTLC methods using developing solvents of different polarities resulting in different selectivity's may require different sets of substances for different SST. Cost and stability are the other criteria to consider when selecting reference substances for a system suitability test. To offer convenience and reliability, a Universal HPTLC Mix (UHM) for use in SST was developed, that is applicable for use with a wide variety of solvents.
The idea for a universal system suitability test (SST) for HPTLC originated from the company Anchrom (India). Dr. Manjusha Phanse started the evaluation of this concept. Thinking about the practical aspects of qualifying an HPTLC analysis and the needs of clients for routine analysis, the laboratory teams of CAMAG and Anchrom worked together to create a new SST concept for HPTLC. This project was later supported by Sigma-Aldrich Chemie GmbH (subsidiary of Merck KGaA, Darmstadt, Germany). The outcome was a joint publication in the Journal of Chromatography A and the launch of the HPTLC calibration mix, a ready-to-use analytical standard solution, suitable for the CAMAG SST concept.
This mix is applicable for SST in a wide range of chromatographic systems, with different polarities and selectivities. The replacement of conventional substances for SST by the UHM will help laboratories to save time and money required for laborious in-house investigations of specific reference substances for each method to be qualified. Different fields of application can benefit from the UHM concept, such as herbal drugs, forensics, pharmaceuticals, cosmetics, etc.
Definition of Mix Composition
In the first step of the investigation, suitable substances for the UHM were selected. An initial list of 56 candidates was determined using the following criteria:
low hazard (not harmful and non-toxic substances)
detectability at UV 254 and 366 nm prior to derivatization
high stability in solution
The chromatographic behavior of those 56 compounds was evaluated with 20 developing solvents (8 are shown in Table 1) (see full article), covering a wide range of polarities and selectivities.
Conclusion

The newly developed universal HPTLC mix (UHM) enables HPTLC users to efficiently and reliably perform their system suitability testing (SST).
Click below to read the full article.