Polycyclic aromatic hydrocarbons (PAHs) are ubiquitous in the environment. They belong to a group known as persistent organic pollutants (POPs) and their monitoring is important because they have been identified as carcinogens. Multiple isomers of PAHs exist, which presents an analytical challenge as they are difficult to resolve chromatographically.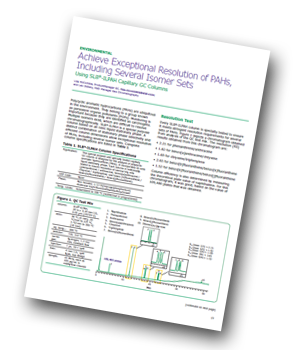 An article authored by Lisa McCombie and Len Sidisky describes a potential solution to this challenge in the form of SLB®-ILPAH columns, which are based on an ionic liquid stationary phase. They report that a distinct combination of stationary phase selectivity and efficient column dimensions allow exceptional resolution of PAHs, including several isomer sets.
The article goes on to outline that every SLB®-ILPAH column is specialty tested to ensure it meets stringent resolution requirements for several sets of PAHs.
The key findings of the study is that the main strength of ionic liquid GC columns is unique selectivity. This often results in increased resolution compared to columns made with polysiloxane polymer or polyethylene glycol columns. The analysis of PAHs is an example of how an ionic liquid column can achieve a level of separation not possible with other columns.
To read the full article click on the button below...