Separation Science, in collaboration with Shimadzu, offers a series of application notes exploring the latest and most up-to-date solutions for COVID-19 drug analysis. Click below to download your personal copies.

JP- and EP-Compliant Analysis of Impurities of COVID-19 Drug Dexamethasone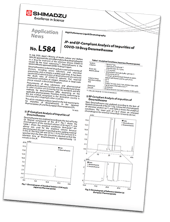 In July 2020, Japan's Ministry of Health, Labour and Welfare approved the anti-inflammatory drug dexamethasone as a drug for the treatment of COVID-19. Dexamethasone, a steroid drug used to treat a variety of diseases including severe infections and interstitial pneumonia, is the second officially approved COVID-19 drug in Japan. It has been reported that administration of dexamethasone also reduced the death rates of COVID-19 patients that required mechanical ventilators or oxygen inhalation, in large-scale clinical research in the UK.
This article introduces analyses based on the test requirements for impurities of dexamethasone in the Japanese Pharmacopoeia (JP) and the European Pharmacopoeia (EP). Read it to learn about approved testing conditions for impurities in the COVID-19 drug dexamethasone. Understand that approved testing conditions vary significantly depending on the country/region. Know that Shimadzu's LabSolutions software in combination with a Nexera system simplifies testing for EU regulations through automation.
Fully Automated Quantification of Meropenem, Tazobactam, Piperacillin and Dexamethasone in Plasma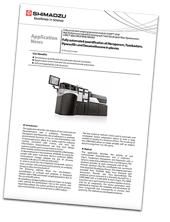 This application describes the analysis of Dexamethasone and three antibiotics Tazobactam, Meropenem and Piperacillin. Dexamethasone is a synthetic glucocorticoid hormone and has an anti-inflammatory and immunosuppressive effect. It is widely used for reducing swelling associated with tumours and treating eye inflammation. Dexamethasone can help treat allergic reactions and is also used in cancer treatments. User benefits include:
- Simultaneous quantification of a corticosteroid and 3 antibiotics
- Rapid analysis within 5 min and fully automated sample preparation
- Sufficient repeatability and robustness
Read the article to learn how Shimadzu's fully automated LC-MS system (CLAM+LC/MS/MS) enables simultaneous quantitation of corticosteroids and antibiotics in blood samples. Understand the advantages of this system, especially the speed of analysis (5 mins) and the high repeatability.
Simultaneous Analysis of Remdesivir and Metabolites in Human Plasma (LC-MS)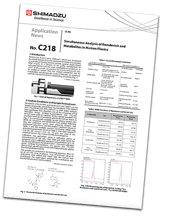 Remdesivir (brand name: Veklury®), which was developed by Gilead Science (US) for the treatment of Ebola virus disease, is a prodrug with antiviral activity against single-strand RNA viruses. It is known to be partly metabolized to activated GS-441524, the main metabolite of remdesivir, in vivo. In this article, we present the results of research into an analytical system that can analyze remdesivir and its metabolites simultaneously using LC/MS/MS, an analytical method that demonstrates outstanding selectivity.
Understand that Shimadzu's LCMS-8060 system provides excellent sensitivity and robustness and that it is suitable for highly selective analysis of antiviral drugs and their metabolites (e.g., Remdesivir).
Simultaneous Analysis of Remdesivir and Metabolites in Human Plasma Using Fully Automated Sample Preparation LC/MS/MS System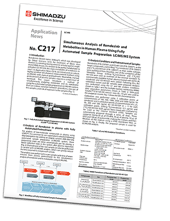 In the application news above (C218), we described a robust, highly sensitive method for the simultaneous measurement of Remdesivir and its metabolite GS-441524, using LC/MS/MS with manual pretreatment. However, manual pretreatment of plasma samples is labour-intensive. This report introduces a similar method but with an automated sample preparation LC/MS/MS system, which can reduce variation between procedures, sample mix-ups, and the risk of exposure to samples.
Understand that automated sample pretreatment can save significant time and labour in the analysis of drugs such as Remdesivir. Learn how the use of Shimadzu's fully automated LC-MS system (CLAM+LC/MS/MS) can in addition prevent human error, variation between users, and exposure to dangerous samples.
Don't miss out on the nitrosamine analysis, LC/MS bioanalysis of antibody drugs or oligonucleotide drug analysis applications. Click below for PDFs.

Click here to access the nitrosamine analysis app notes >>
Click here to access the LC/MS bioanalysis of antibody drug app notes >>
Click here to access the oligonucleotide drug analysis app notes >>