CAMAG®, in collaboration with Separation Science, is pleased to present Issue 1, 2022 of its CAMAG Bibliography Service (CBS 128). Focusing on product safety and quality control with HPTLC, the latest edition features topics around the analysis of methylglyoxal in Manuka honey, planar solid-phase-extraction (pSPE) screening of chlorinated paraffins as an alternative to time-consuming and complicated GC approaches, quantitative routine analysis of glucose degradation products in sterile solutions, and the development of new HPTLC methods for the detection of falsified drugs.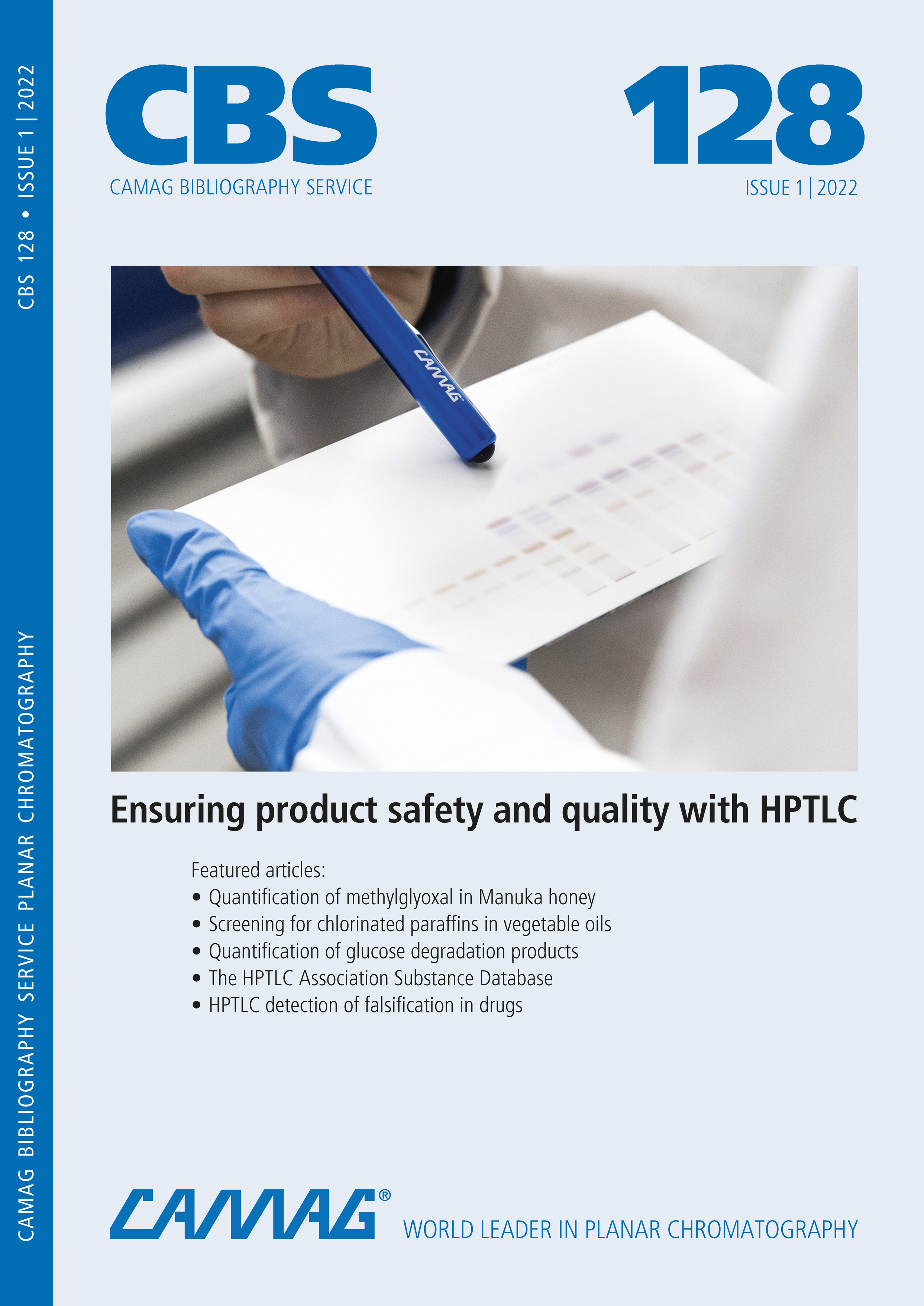 Additionally, we introduce the HPTLC Association Substance Database for natural products, a systematic collection of retention and spectral data of representative substances from different classes, analyzed with different developing solvents and derivatization reagents.
To download the full PDF of this CBS edition, click here.

Quantification of methylglyoxal in Manuka honey


Manuka, an exclusive and high-priced honey mainly produced in New Zealand, has gained popularity due to its high antibacterial activity. Being present in high concentrations, methylglyoxal (MGO) is the major contributor to its antibacterial property. To avoid adulteration, a strict quality regulation needs to be fulfilled, which mainly focuses on the MGO amount in Manuka honey.
Read article >>

Screening for chlorinated paraffins in vegetable oils
Chlorinated paraffins (CP) are toxic industrial contaminants, which are released into the environment especially via waste and wastewater. CP have already been detected in vegetable oils, milk, and dairy products, as well as in human milk fat and in food supplements with high fat content. This study shows a screening method for the determination of CP in vegetable oils and dietary supplements by pSPE and a comparison of the results obtained with a common gas chromatographic method.
Read article >>
Quantification of glucose degradation products


Sterile glucose solutions are commonly used as reconstitution solvents or diluents for injectable drugs and for peritoneal dialysis solutions. During heat sterilization of glucose solutions for parenteral use, a variety of glucose degradation products (GDPs) may be formed, which can cause cytotoxic effects after parenteral administration. This study presents the development of a simple and quick HPTLC method, by which the major GDPs can be identified and quantified in glucose solutions for parenteral administration.
Read article >>

The HPTLC Association Substance Database
The HPTLC Association Substance Database is a systematic collection of data, easily accessible electronically from the website of the HPTLC Association. With the substance database, HPTLC laboratories have a free and convenient tool to help with identification of zones in a chromatogram. The user can compare RF values, colors prior to and after derivatization, and UV spectra of unknown zones with those of the references.
Read article >>
HPTLC detection of falsification in drugs


The World Health Organization (WHO) considers that half of the drugs sold through the internet are fakes. With the aim of confirming the presence of active pharmaceutical ingredients (API) or excipients in each of their formulations, the Sanofi group created the unique Anti-counterfeiting Laboratory (LCAC), employing HPTLC to develop new qualitative analytical methods for the detection of falsified drugs in a variety of sample matrices. To detect falsification of drugs, a generic HPTLC method was developed.
Read article >>
To download the full PDF of this CBS edition, click here.

If you would like to receive the CAMAG Bibliography Service (CBS) twice per year via email, please register at www.camag.com