Experts refer to it as 'Helium Shortage 4.0' – the fourth time in the past twenty years that the world has faced a serious deficit in helium gas production. The latest helium shortfall, a product of events including the Ukraine war, has revealed a hard truth to many industrial users: helium price uncertainty will likely continue for years to come.
In separation science applications, helium is most often used as a carrier gas, transporting sample vapors through chromatography columns. Finding a way to replace helium with hydrogen gas could drastically reduce operational costs for many labs – if they know the key considerations to undertake before investing in hydrogen gas generation.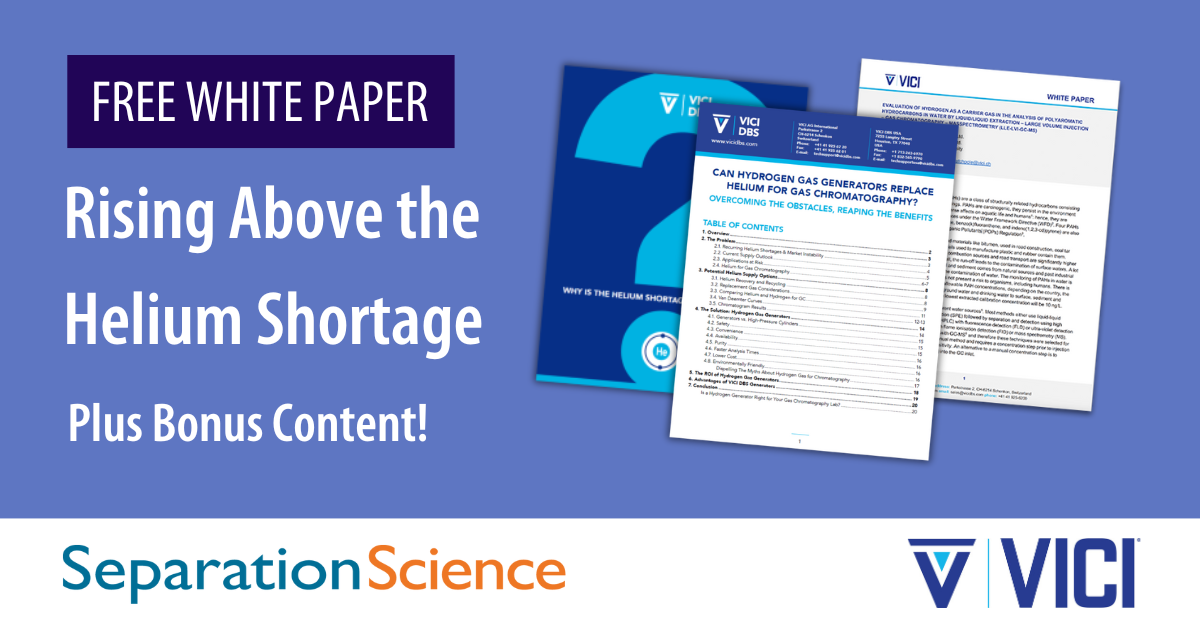 To help chromatography assess new choices for carrier gasses, Separation Science, in collaboration with VICI, offers the white paper: Can Hydrogen Gas Generators Replace Helium for Gas Chromatography? In this report, readers will discover:
How helium is used in gas chromatography, and why supply issues are likely to persist
Options for recovering and recycling helium
Considerations for a replacement carrier gas
How in-house hydrogen generation overcomes the hassles of high-pressure cylinders
Chromatogram results
Safety considerations
Dispelling common myths about hydrogen gas for chromatography
ROI calculations
Click the button below to download your free copy of the 'Can Hydrogen Gas Generators Replace Helium for Gas Chromatography?' white paper.
You will also be able to access bonus content including:
a white paper describing GC-MS analysis of polyaromatic hydrocarbons in water using hydrogen as a carrier gas.
Introductory brochure and video about the helium shortage from VICI.
If you have a colleague who may be interested in the subject of this white paper, please click below.