Cocaine is one of the most commonly abused recreational drugs, with an estimated 16.5 million people or 0.35% of the worldwide population abusing the substance. Detection of its use can be performed in several biological matrices such as blood, urine, oral fluid and hair.

While urine and oral fluid are very useful for determining cocaine use in short term, hair samples are becoming extremely valuable in testing the long-term use.
Additional benefits of hair testing include but are not limited to (1) ease and non-invasive nature of sample extraction, (2) absence of storage requirement and (3) long term stability and little risk of sample degradation overtime.
Presence of cocaine and its metabolites in hair indicate active drug use. However, there are two major analytical challenges associated with detecting cocaine and its metabolites in hair sample: (1) low concentration of these compounds and (2) high abundance of matrix interferences associated with hair samples.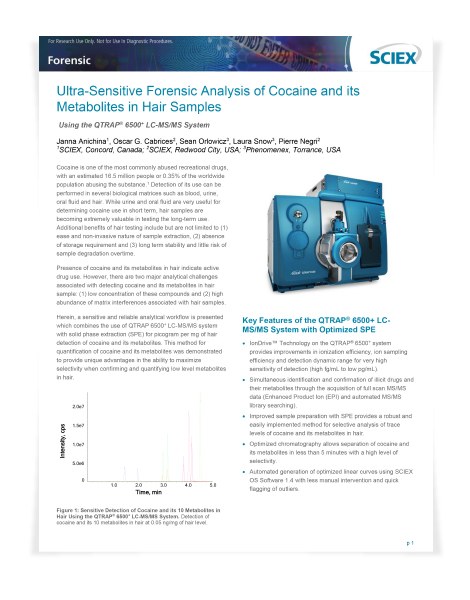 Discover the benefits of Ultra-Sensitive Forensic Analysis Using the QTRAP® 6500+ LC-MS/MS System
Key benefits include but are not limited to:
Ease and non-invasive nature of sample extraction

Absence of storage requirement

Long term stability and little risk of sample degradation overtime