Separation Science, in collaboration with Agilent, offers a video application, complementary application note and related assets focused on volatile organic compounds analysis with headspace GC/MSD and hydrogen carrier gas and HydroInert source.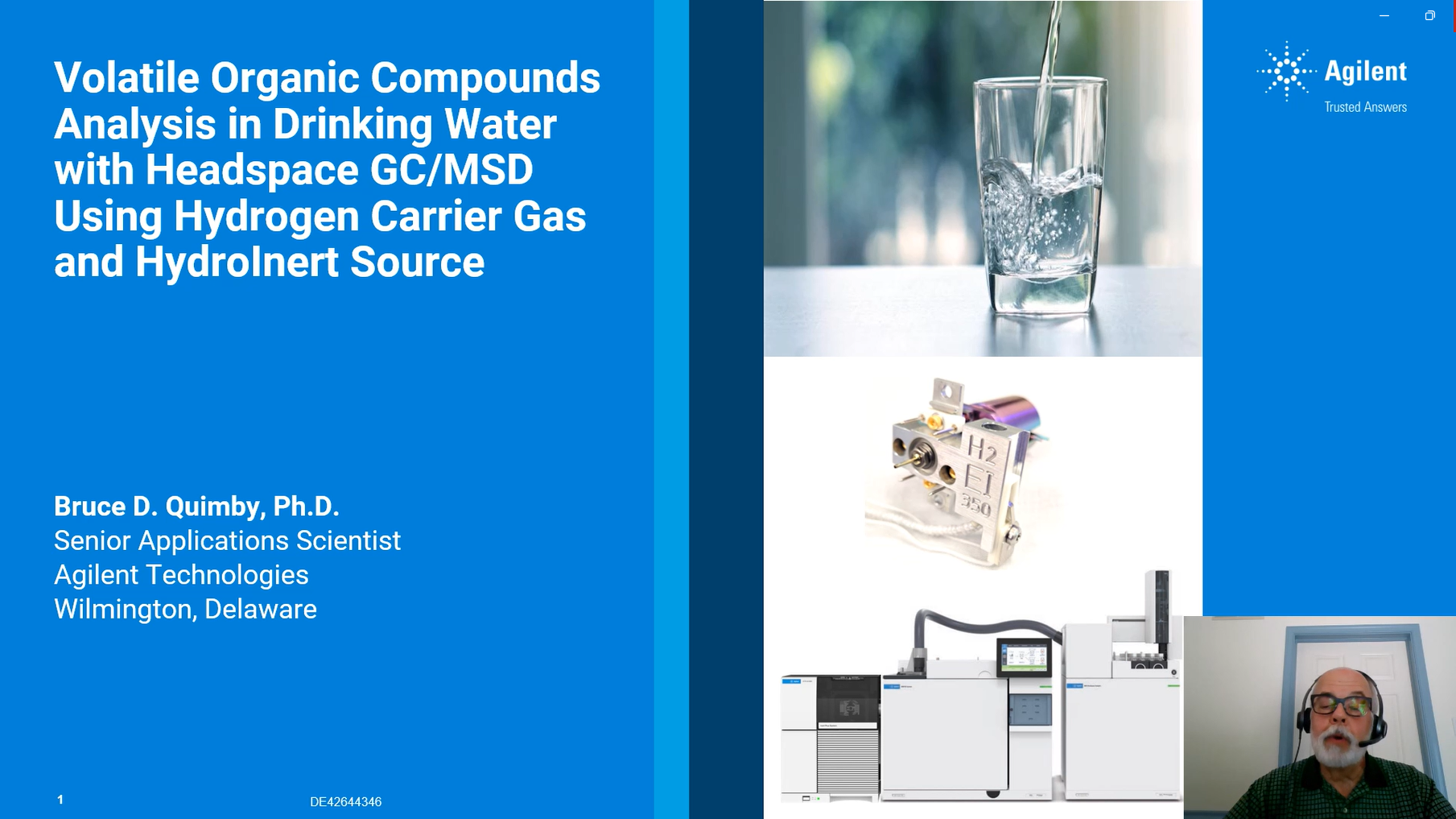 This presentation describes the analysis of volatile organic compounds (VOCs) in drinking water using headspace/GC/MSD with hydrogen carrier gas. The system is comprised of an Agilent 8890/5977C GC/MSD system coupled with an Agilent 8697 Headspace Sampler. Recent concerns with the price and availability of helium have led laboratories to look for alternative carrier gases for their GC/MS methods. For GC/MS, hydrogen is the best alternative to helium and offers potential advantages in terms of chromatographic speed and resolution.
However, hydrogen may cause chemical reactions in the mass spectrometer electron ionization (EI) source. This can lead to disturbed ion ratios, spectral infidelity, peak tailing, and non-linear calibration for some analytes. Therefore, a new EI source for GC/MS and GC/MS/MS that is optimized for use with hydrogen carrier gas, named HydroInert, was used. The chromatographic conditions were optimized to provide separation of 80 volatile compounds in 7 min.
Standards and samples were analyzed in both Scan and SIM data acquisition modes. Excellent spectral fidelity, peak shape, calibration performance, and method detection limits (MDL) were demonstrated.
From this presentation and associated application note, you will learn:
the key components and techniques used to successfully adapt a typical headspace VOC helium method for use with hydrogen.
how with proper selection of chromatographic parameters and hardware, results comparable to those obtained with helium are achievable.

Bruce D. Quimby, PhD
Senior Applications Scientist, Agilent
Dr Bruce Quimby is a Senior Applications Scientist in the Mass Spectrometry Division of Agilent Technologies, located in Wilmington, Delaware. He is currently working in GC/MS applications in multiple areas including environmental and food safety.