This poster from Biotage compares sample preparation options for the extraction of a panel of endogenous steroids from serum.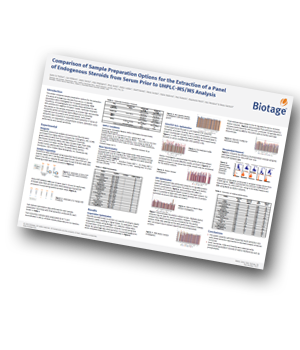 Introduction
LC-MS/MS parameters were investigated for increased sensitivity: MRM transitions, chromatography and mobile phase additives for use with positive and negative ionisation modes. Particular emphasis was placed on the sample preparation to provide high reproducible recoveries whilst minimizing matrix effects and co-extracted materials such as proteins and phospholipids. Solid-phase extraction was compared to supported liquid extraction in terms of recoveries, ion suppression, phospholipid content, calibration curve performance and overall sensitivity.
Sample Preparation
Extractions were developed using supported liquid extraction or polymer-based SPE in 96-fixed well plate format. ISOLUTE® SLE+ was used in the 400 μL capacity 96-well plate format (P/N 820-0400-P01) following a load-wait-elute procedure.
Results
Evaporation Optimization
Steroids are well known to exhibit non-specific binding to plastic collection plates resulting in signal losses. On evaluation, these evaporation losses using Biotage 2 mL collection plates were minimal when using reconstitution solvents incorporating 50% MeOH. No advantage was observed when incorporating glycol to
avoid complete evaporation.
Conclusions
This poster presents optimized supported liquid extraction and solid-phase extraction approaches to low level analysis of steroid hormones.
Good recoveries, LOQs and linearity were obtained while demonstrating excellent removal of matrix interferences such as phospholipids.