Tosoh Bioscience has produced Volume 1 of its 'Biopharmaceutical Application Notebook' for the (U)HPLC analysis of biomolecules. This essential application notebook will keep you informed of all the latest developments in the biopharmaceutical industry using both high performance liquid chromatography and ultra-high performane liquid chromatography — the analytical workhorses of the pharmaceutical industry.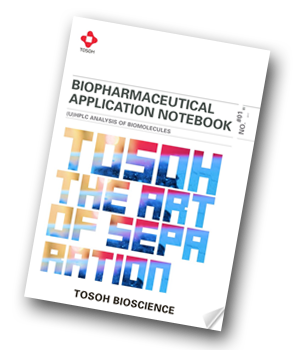 Below you will find a selection of the application notes covered in the 'Biopharmaceutical Application Notebook'. Download the full application notebook to access more than twenty application notes covering important aspects of biopharmaceutical analysis such as protein aggregation, charge isoforms and glycosylation as well as determination of drug-to-antibody ratio (DAR) of ADCs. The last section of the notebook provides tips and tricks on how to improve chromatographic separation of biomolecules.
High Speed and Resolution Analysis of mAbs by SEC
Size exclusion chromatography (SEC) is the standard method for aggregate and fragment analysis of monoclonal antibodies in biopharmaceutical QC. This application note introduces a new series of silica-based SEC columns engineered to provide shorter analysis time or higher resolution than standard columns for the separation of fragments, monomers and dimers.
Increased Resolution mAb Analysis by UHP-SEC
The antibody therapeutics market is enjoying high growth rates, the major areas of therapeutic application being cancer and immune/inflammation-related disorders including arthritis and multiple sclerosis. The standard method used in biopharmaceutical QC for mAb aggregate and fragment analysis is size exclusion chromatography (SEC). This application note introduces the TSKgel UP-SW3000, 2 μm silica-based UHPLC/HPLC columns offering increased speed and higher resolution for the separation of antibody fragments, monomers and dimers.
Analysis of Nucleobases using SEC Columns in HILIC Mode
Hydrophilic interaction liquid chromatography (HILIC) is one of the fastest growing modes of separation, in which any polar chromatographic surface can be used. Chemically-bonded diol-coated phases, as found in TSKgel SW size exclusion chromatography (SEC) columns, demonstrate high polarity and hydrogen bonding properties and do not contain ionizable groups other than the unreacted residual silanols, making them appropriate for HILIC mode. This application note introduces the TSKgel SuperSW mAb HTP column and demonstrates the benefits of using it in HILIC mode for the superior resolution of four nucleobases, as opposed to using the column in SEC mode or using a HILIC column.
Smart Solutions for Large Molecules using SEC , IEC and HIC
Development and production of biopharmaceuticals is a growing segment of pharmaceutical industry. A thorough characterization of therapeutic biomolecules is a key task for the successful submission of research and production data for regulatory approvals of new drugs. Due to its high degree of automation, robustness and reproducibility liquid chromatography is the workhorse of the pharmaceutical laboratory. Therefore, HPLC is also frequently used when establishing analysis methods for biotherapeutics. This application note features some of the most frequently used HPLC applications for the characterization of biopharmaceuticals.
Characterization of PEGylated Lysozyme by IEC AND SEC
PEGylation, the process by which polyethylene glycol (PEG) chains are attached to protein and peptide drugs is a common practice in the development of biopharmaceuticals to prolong serum half-life and improve pharmacokinetics of a drug. There is increasing demand for chromatographic methods to separate the modified isoforms from the native protein. This application note describes the use of size exclusion and ion exchange chromatography for the characterization of PEGylated lysozyme.
Method Transfer from HPLC to UHPLC for Biomolecules
The use of UHPLC systems for small molecule analysis has gained widespread acceptance among researchers in recent years. The use of HPLC columns with UHPLC systems offers the advantages of cost and time savings over having to purchase and develop new methods with UHPLC columns. This application note demonstrates the excellent performance of conventional TSKgel HPLC columns on a UHPLC system.
Download your copy now and keep informed of all the latest developments in the biopharmaceutical industry.