In this application note, a Thermo Scientific™ HR-MAM workflow for biosimilarity assessment is evaluated. The study demonstrates the use of the workflow for sequence variant assessment and to monitor the variability of product quality attributes in biosimilar when compared to its originator.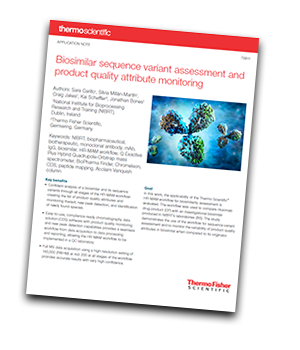 Introduction
Analytical technologies in the biopharmaceutical sector are facing a growing challenge posed by the exponential increase of biopharmaceutical products on the market. Newly approved drugs include treatments based on novel types of antibody-based molecules, such as Fc fusion protein and antibody-drug conjugates, drugs with increased complexity, such as bi-specific antibodies and an increasing number of biosimilars.
In this work, the Thermo Scientific HR-MAM workflow was used to evaluate product quality attributes in rituximab drug product versus an in-house produced biosimilar, with a special focus on differences in Fc N-glycosylation. Moreover, the in-house biosimilar is known to have several point mutations in all subunits. NPD was performed to verify the differences between the two samples and peptides only present in the biosimilar arising from these
point mutations.
Experimental
Full details of the experimental conditions can be found by downloading the application note.
Results and Discussion
Biosimilarity assessment relies on the in-depth characterization of originator drug and evaluation of product quality attributes for the comparison with the investigational biosimilar. For those post-translational modifications that are considered critical for product safety and efficacy, this is even more important during the evaluation of mAb biosimilarity.
In this work, a MAM workflow based on PQAs relative to rituximab drug product was applied to our in-house investigational biosimilar to evaluate differences present between the two mAbs. From the previous analysis, it was known that the amino acid sequence of our biosimilar differed from the originator for 11 point mutations located in 5 tryptic peptides.
Conclusions
This study demonstrates the applicability of the Thermo Scientific HR-MAM workflow for the analysis of biosimilar and PQA evaluation. Overall, the HR-MAM workflow was found to be an excellent analytical setup to carry out mAb comparability studies in compliance-ready software.